And here is a day like any others, you find yourself stuck in traffic jam just to do few kilometers to get a SE/30 for 20€.
What could go wrong?
Oh you know exactly what could go wrong.
Burned screen, dead hard drive, missing floppy drive, external damage…
And two things you know will happen, even if you hope to be very very lucky… capacitor leaks and bombed mac.
Got the computer, looks clean and seems to have a psd graphic card. Good, even the computer is ruined you might get a good graphic card for cheap.
You get back in the card, put the mac on the passenger seat and…
Suddenly you notice a white snow on yourself, it itch a bit on your skin.
Then you know, it too late, what you feared most already happened.
You knew it from the beginning but you still had hope some of them escaped this ill fate of the bomb.
Back to your shop, you start the inspection.
What sinister finds will you uncover?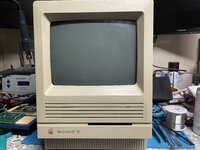 At first it looked in fine shape despite some yellowing.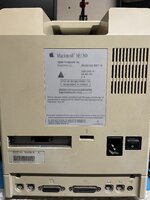 Some scratches but nothing bad, and an external monitor port…
But the side confirms your deepest fear.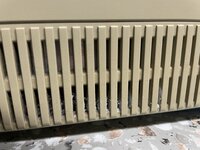 That's where the white snow came from, you know what behind, you know just behind the case at this exact spot is a exploded battery.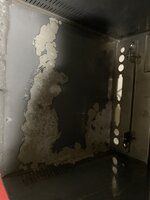 Opening the case you saw the damaged shield…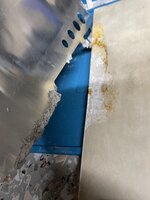 And you instantly notice disconnected cable. It's bad sign. You fear the worst.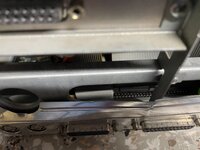 You removed the graphic card, hopefully it's still inside the computer and wasn't scrapped. And you got to the motherboard, facing carnage with only pain for company.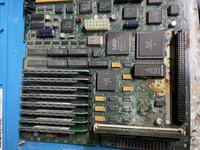 Damage is important, no trace of the battery, as it wasn't damaged enough capacitor did their mischief, corroding everything.
Could it be fixed? Or should it have the "Bolle treatment"?
You don't know.
At least you get 8 sticks of 1 meg and a neat Nutmeg 30/2. Not incredible but not a complete loss.
You're tired, time to get some sleep for now.