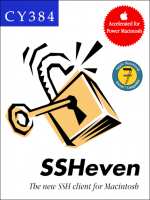 I think the cat is out of the bag on this one, so here's a thread announcing my SSH client (beta release):
SSHeven is a bare-bones open source SSH client with support for the latest protocol version and encryption standards, allowing access to the default configurations of all modern servers, supporting logins with password or key.
Requirements:
CPU: Any PPC processor, or at least a 68030 (68040 strongly recommended).
RAM: 2MB available.
Disk space: fits on a floppy.
System 7.1 or later. Versions below 7.5 require the Thread Manager extension.
Open Transport networking required, latest version possible highly recommended.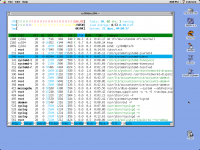 Right now it's basically usable, with UI cleanup and a few little features coming before the 1.0 release.
You can find
the latest information on github
, and
the latest releases likewise
.
Thank you to, in addition to the many open source devs whose work I'm building on, Wolfgang Thaller aka autc04 (Retro68), Eric Helgeson for a BlueSCSI hardware donation, along with helfire, Knezzen, 2Sierra India, and fogWraith (among others) for their support and bug testing!