I recently scored a Quadra 700, a few weeks ago I had some time to give it some love. Here's what I did...
This Q700 really wasn't in bad condition to start with, and already worked, so my main focus was to clean everything up and improve anything I could as I went along.
To start with, I fully disassembled it - the case and logic board had some dust bunnies, nothing awful but it needed a clean.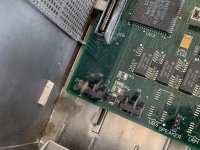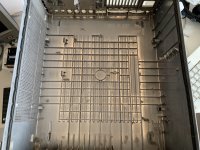 The internal case came out well after a quick brush to remove the dust: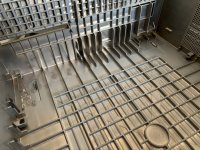 The front switches and clear plastic LED piece for the front power LED were removed and dumped in hot soapy water: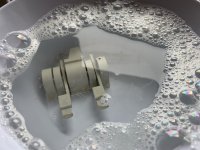 The black side strips that run along the length of the machine were cleaned, they were rather dirty!
The rear I/O panels and NuBus slot openings were cleaned out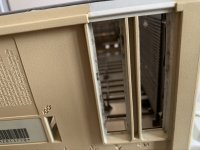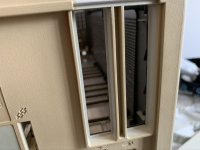 Some photos of the case before cleaning: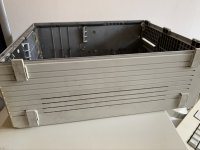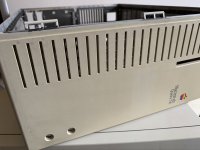 The top lid before cleaning: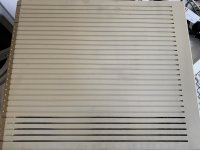 Washing up liquid and a scrub is all I'm going to do on this.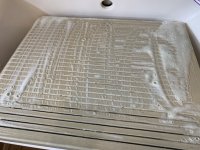 Came out really well...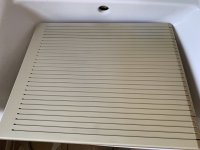 Same treatment for the front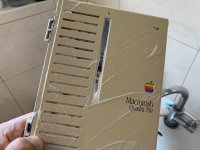 Front vents were cleaned/rinsed out: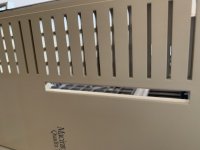 All the other little bits were cleaned and dryed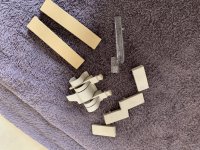 The logicboard was brushed down and lightly swabbed with IPA: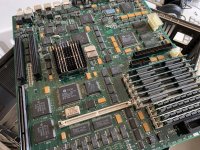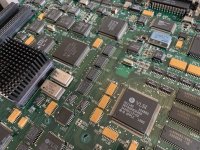 Starting to put things back together, looking quite sparkly and new really: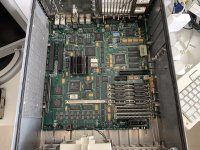 The floppy drive was definitely the dirtiest part of the whole machine...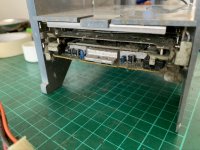 I already knew it read disks OK, so I thought it worthwhile giving it a full clean - but I also knew it wouldn't eject disks, so there's something going on there.
The drive carrier was a bit dusty, not too bad.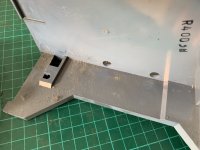 That was rinsed and dried off, looks great now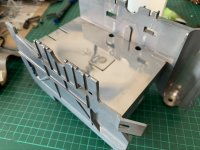 So.... onto the floppy drive.
Before: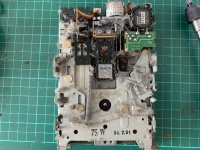 After some initial brushing to remove the worst dust: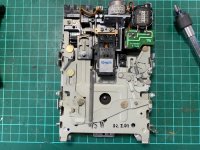 Removing more bits revealed more dust...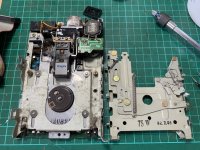 Going further, lets clean it up...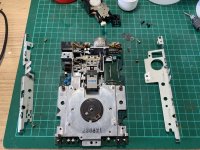 Yep, broken eject gear. Same old same old. I don't have a spare replacement right now - so will have to return to this another time.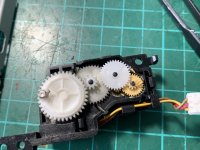 New grease applied - I was probably a bit liberal with it but I can always remove access afterwards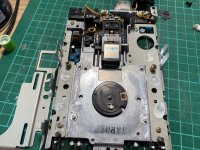 Everything back together. Can't fully test just yet because of that missing eject gear but what an improvement!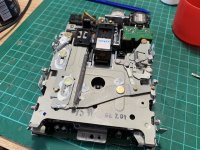 Back to finish off the rest of it...
SCSI2SD installed, and the original activity LED hooked up to it: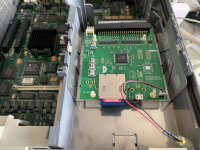 Looking rather smart, albeit more yellow than my 6200, but still nice and clean now and ready for BUSINESS: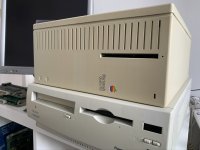 And most importantly, the original HD activity LED works great...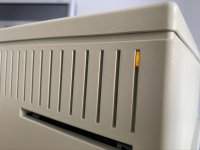 A few days ago, I did a few more things:
Replaced the dirty and noisy original PSU fan with a new one.
Stock fan: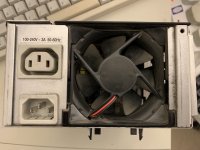 Replaced with a Noctua NF-A8 PWM: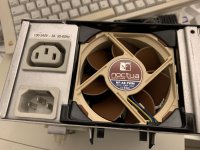 I also ordered some new RAM, to bring the total from 20MB to 68MB (including 4MB onboard):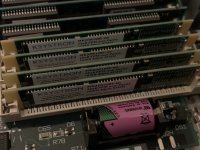 Things remaining to do:
- Clean out power supply and recap it
- Remove the original oscillator and replace with a DIP socket/new 66Mhz oscillator to crank clock speed from 25Mhz to 33Mhz
- Get a new eject gear for the floppy drive