Hello 68k Community!
New member here. I was in 6th grade when the Mac II came out. My first computer was a Classic 2/40. I looked forward to reading Guy Kawasaki every month. On my high school newspaper we worked on SE's, and the day we bought a IIci was like Christmas. Ah, the good old days!
I wanted to share my story about rescuing a vintage Mac. Last month my township held a household waste disposal day, including collecting old computers for recycling. As I dropped off an old laptop, I noticed a couple Pizza Box Quadras, turned out to be 605's, pretty neat. Then I turned over a larger, desktop case, and behold, a Mac II!!!! There was no way I was going to let this piece of history be destroyed, so I quickly and stealthily "rescued" her and got out of there. This was the machine I lusted for as a child, but no way we could afford one (top spec cost nearly as much as our 1989 Ford Taurus Wagon!). I brought her home, gave the case a quick wipe down, and set her up as a monitor stand (and had some fun with my PC showing a period-correct Mac desktop on the monitor)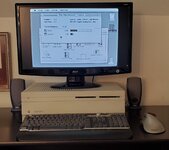 There was what I assumed to be a token ring card, so I thought maybe she came from a school or a business.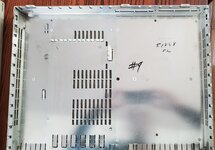 A few days later, I finally had time to crack the case. First thing I noticed was a hand-written date of 5.18.88 with initials S.W. and a #9 on the cover
Then, I took a closer look at the motherboard and this is what I saw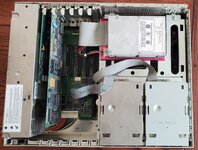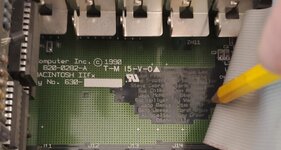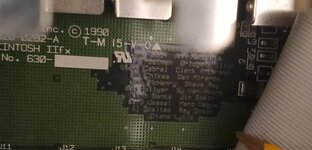 SHE WASN'T A MAC II, SHE WAS A IIfx!!!!!!!!
​
Here are a few other bits I was able to come up with. I don't have a grounding strap, and being overly cautious I wasn't going to remove anything, visual inspection only at this point.

All 8 RAM slots are filled - total RAM unknown
210MB Quantum HD from ClubMac - presuming aftermarket upgrade
Dual floppies - unknown if 800KB or 1.44MBs
Toby Color Video Card - 8 bit memory upgrade unknown
Extensive Battery Damage
(more pictures below)

I'm not sure what I'll do with her, maybe restore her at some time. Right now just thrilled to have her in my office.

For those with more knowledge of the Mac II family:

Are IIfx swaps into II cases common?
Is there a way I can tell if the power supply is from a II or a IIfx?
Is the writing on the case's cover an Apple QA notation or something an owner wrote?
Is the exposed board with the Mac Designer Team names common? I did a quick search but couldn't find a similar board.

Any other thoughts or insights would be appreciated. Thanks all!