An unusal rack mounted 7100 popped up on eBay. Clearly it was used for music production as I could tell it had a Digidesign AudioMedia card and who else would rack mount a 7100?
I was the only bidder and I collected it today. The seller threw in a bunch of audio equipment too, a Digidesign analog sound interface box and a MIDI box of some sort.
The seller used it for music production for some time, it was handed down to him from his father, and then it was retired and stored in a loft for years.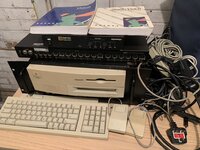 The thing that interested me the most is what NuBus cards the 7100 might have...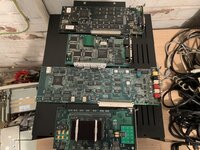 Yup, we have cards. All the r@re cards!
RasterOps 8XL
Village Tronic Picasso 340
Digidesign AudioMedia II
NewerTech MAXpowr - I imagine it's a G3 card.
Upon further inspection, things get a little bit worrying...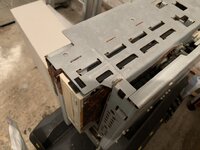 Uh oh, we all know what this means. The battery was left in the machine and it's decided to do its thing.
Well, here's the weirdest thing I've ever seen happen...
All of the exploded battery juice ended up hitting the CD drive, and NOT the logic board !! I can only think the machine was stored upside down.
Here's the underside of the CD drive and the battery damaged RAM: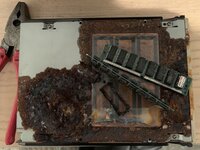 The logic board looks ...fine !? These RAM sockets even look clean, can't see any battery goo in the sockets.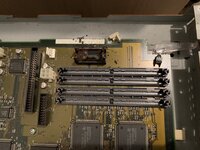 The other unusual thing about this 7100 is the PSU... It's a LITEON branded unit which I've not seen in a Mac of this age before. Anyone else got a beige Mac with a LITEON?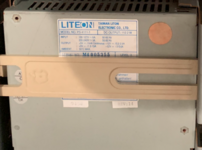 So, next steps will be testing these cards, and see if there's any life in the logicboard.