Hi,
I have a set of 3 macintosh based on the 630 form factor case (including an 6200).
- Does they share the same internal architecture (PSU, CD Drive, HD, ...). In other words, can I swap boards across them without care ?
- 1 PSU seems dead I tried the 3 boards and no one starts the computer. Are they easy to recap/rebuild ?
- I have 2 fully working board (chime, display ..) and one more or less defective one.
This board starts the computer with no chime, no display, no disk activity. It seems that's this board receive a PPC601 upgrade (DayStar PowerCard 601 - unknown speed).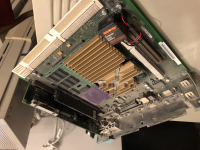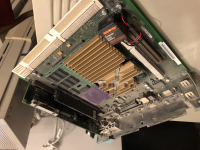 Are these board subject to caps leaking and needs to be recapped ? Or I am missing a boot extension to start the board with that configuration (the dead PSU is from that board) ?
Any idea on how the get this board working again ?