Many years ago one of my students gave me a IIsi with the above Portrait Display. I've always liked that combination and used it occasionally as a terminal for a Synclavier.
After putting everything in storage and moving a few times I thought it was time to break out all those oldies again.
The IIsi had suffered a catastrophic battery explosion that effectively made the logic board a total loss. Got a replacement, recapped the power supply (where the caps had clearly leaked) and the IIsi seems to work ok again (with a different display).
The portrait display is acting up badly. It is getting a signal from the IIsi and clearly displaying
something
. The "picture" also changes during startup, so, yeah...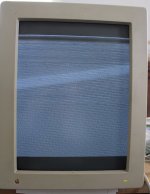 If I re-connect the different monitor afterwards the monitor control panel is clearly showing a vertical orientation and the lower part of the screen seems to be missing. So the M1031 is recognized correctly as what it is.
I can't make it work on an 8100 at all. On a 4400 however I can get the following picture: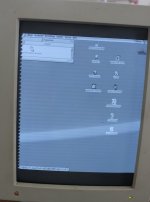 I have to set the monitor control panel to 1024x768, 75Hz for this to work; all other resolutions and refresh rates don't result in anything meaningful. It feels odd to me since this is not a resolution for a portrait display at all.
I'd appreciate any ideas and suggestions. I believe this monitor was built by Hantarex.