Anyone familiar with Mac-a-Mug Pro? This was a commercially available MS Basic 2.0 program (!!!) made by James E. Haynor (Shaherazam) which let you do mugshots out of a selection of options for face parts and a few accessories (glasses, hats, etc). Some were very limited, some were more abundant. Expect a lot of 80's style hair!
The graphics used fonts which you had to Font/DA Move into your System file. I guess it makes sense from a programming point of view, since displaying fonts and tweaking their position involved already made up routines in Basic. You can tweak the positions of the facial features, including only the left eye or only the right eye, for example. You can darken some parts or the whole, if you want to go outside caucasian features. Sadly, there are some options for feminine faces, but they are very limited relatively.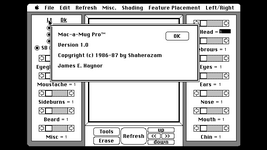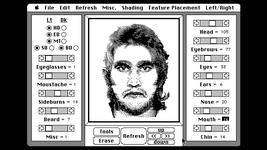 You can find it in those big lists of purchasable softwares, for example in MacUser Oct 1986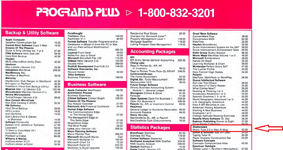 There's a brief review of it in a few of the 1986 editions of Mac User. You can also find a short 3-page article in the July 1986 edition of Mac User.

I tried to recreate my own face, but it's very hard due to the limitations. It gives a good basis though, which you can then use in MacPaint to do some touchups. Here's my imperfect attempt at recreating my imperfect face!