I currently have a 2.3GB IDE drive that works fine. But I would like a SCSI drive ... because SCSI. SCSI is smooth.
I recently purchased a Fujitsu MAB3091SP 68-pin SCSI drive and plugged it in to my 2940U2W SCSI card. Drive Setup didn't want to recognize the drive as the drive isn't an official Apple-sanctioned drive. So I used FWB Hard Disk Toolkit to format the drive. Then it mounted. But I found I couldn't boot off it.
I found an article about hacking Drive Setup to recognize unofficial drives using ResEdit and that allowed Drive Setup to recognize the drive. I installed MacOS on the drive but the drive wouldn't boot.
Attached is a list of drives from using ResEdit to view "fSCR" from Drive Setup: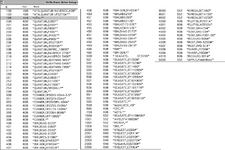 d
I can only assume these are the "officially supported" drives.
What I found interesting is the use of asterisks, the "wildcard." Note, for example, the entry "IBM*." Does this mean that any IBM SCSI drive is OK?
Note that there are two. Fujitsu drives listed, but no "Fujitsu*."
So if I were to track down another SCSI HDD, would it be OK to buy for example an IBM SCSI drive that did not have the Apple logo on it, as some drives have?
Or does the drive specifically need to have "Apple" or the Apple logo somewhere on the drive label?
I'm especially interested in 50-pin drives coz my 2930CU SCSI card is bootable with NetBSD and the 2940 is not.
Or I was also looking at OWC's Mercury legacy SSD. Which would be more sensible. But I rather like the personality of spinners XD
Last edited: