Hey everyone,
I've just wrapped up what ended up being an extraordinarily involved project: the full teardown, recap, and restoration of a G3 iMac trayloader.  She's a 266mhz Tangerine, and she's a beaut: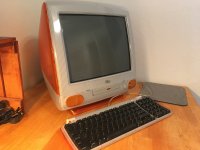 This has been one of my most involved Macintosh projects to date, and the only thing that got me through it is that I absolutely adore the original iMac and I wanted to see her thoroughly, thoughtfully, and meticulously restored.  it was a labor of love and I'd think twice before doing it again.  The restoration consisted of:
1. Replace the picture tube with a new-old-stock one from an all-in-one Molar Mac.  The reason is that I found one on eBay, and I couldn't say no to a fresh picture tube
2. Recap the power supply
3. Recap the CRT driver board and replace the flyback transformer
4. Recap the motherboard with solid polymer caps, install a fresh Tadiran battery
5. Reinstall the operating system
6. Thoroughly clean along the way
Here are pictures of all the boards after the recapping: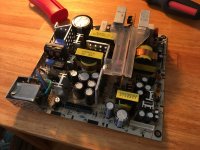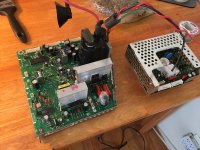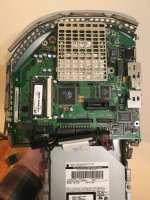 I didn't document the process very closely — this is the fourth or fifth Mac I have restored to this extent, so it's not novel enough for me to document step-by-step anymore.  That being said, here is some insight from the experience:
1. HOLY COW THIS THING HAS AN INSANE AMOUNT OF CAPACITORS.  I have NEVER recapped a computer that had anywhere near this amount.  I spent $100 on caps alone.  If you want to recap one of these... beware.
2. It seems as though LG did all of the engineering and production of the monitor, power supply, metal sub-frame, and even the power LED and switch.  Everything in the computer, other than the plastics and the logic board cage, was stamped with LG logos and production dates.  Apple must have worked closely with them when designing this computer.  LG's build quality on this machine is... ehhh... it's okay.  The picture tube seems decent.  The driver board seems to be made out of mid-grade materials, I accidentally lifted a few traces and it didn't feel as robust as other PCBs I have worked on.  The power supply seemed fine.  The flyback was, as we all know, a notorious failure point.  It seems as though LG monitors from this era all suffered from unreliable flyback transformers.
3. The power supply board has five "Samwha" brand capacitors, 3300uf value on the output stage, and they were all leaking.  There were two Korea Chemi-con capacitors on the CRT driver board that seemed to have a little electrolyte underneath as well.  Every other capacitor inside the machine was absolutely fine, including the SMD ones on the logic board.  I'd say this machine has overall decent quality capacitors, and if you own one, I wouldn't be in a rush to recap.
4. The plastics were in okay condition on mine.  Not horribly brittle like a lot of the slot-loader iMacs are.  That said, they didn't feel particularly robust either, and I exercised extreme caution in disassembling and re-assembling the machine.
5. The picture tube that I installed from a AIO Molar Mac was a definite upgrade.  It's sharper than the standard iMac tube, and the face of the tube has noticeably darker phosphor — it seems to be a high-contrast tube.  I have an excellent picture on the screen after adjusting the color using the Display Adjustment Utility.
6. The tray-loading CD-ROM drives on these really struggle to read CD-R disks.  I have a restore disk for this iMac, but, because the drive won't read the disk reliably and because these machines don't seem to want to boot off of USB, I haven't been able to re-install the OS.  I still want to wipe the drive and do a fresh install, but I'm going to have to brainstorm and research a bit to figure out how to do it without using the CD drive.
All in all, I'm really glad I recapped this machine.  I did it out of love for the original iMac, and also as a preventative measure.  I am documenting it here because I haven't seen a ton of board-level work done on these, and I love them, so I wanted to contribute at least one forum thread about this lovely machine.  Thanks for reading!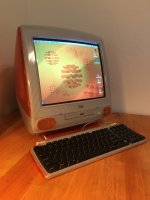 Last edited by a moderator: