Hi all, I just wanted to share a little (<4 mins) video I made about the 5400 and why I think it's such a cool computer... so long as it's black.
I bought the black 5400 about eight years ago and it saw periodic service as a TV. It was a sort of "buddy" system to my G4 for a good long while. Here it is circa 2016 with an N64 by its side.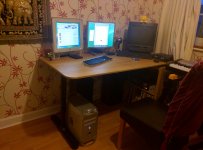 I really grew to love this machine as time went by but it started to show its age soon enough. In around December 2019 it started exhibiting a distored display and random reboots.
I left the Black Mac in storage until I stumped up the courage to recap it. My efforts were a success but disaster struck when I accidentally short-circuited the analogue board with a rogue capacitor leg, destroying it in the process. I once again put the Black Mac in storage, this time waiting for a suitable donor machine to come along on eBay.
Enter, the Big Cheese: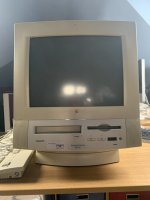 This gross, yellowed 5400 was the saviour of my lovely black one. It donated its power supply and analogue board so that my Mac could live again. It also had a Sonnet G3 in it, which was a great little bonus.
With all that mess resolved I now have a wonderful, weird Mac back in service in my collection. I find any sort of A/V functionality to be tremendously cool (even on modern computers) so the fact that this computer looks like a TV
and
has a remote is just so appealing to me.