In case anyone's interested, I just uploaded a freeware screensaver I wrote in 1995 to the Garden:  
http://macintoshgarden.org/apps/firepower-152
  This got a bit of distribution in the mid '90s but not much, and wasn't on any of the abandonware sites, so I guess it's almost like "new old" software!  FirePower displays reasonably nice looking (in my opinion) fireworks in various colors while it saves your CRT.
I wrote it for Power Macs running System 7 because at the time, most/all common screensavers were written in 68k code and therefore likely slowed down any Power Macs that were running them.  It is a fat binary, though, so should run on 68k Macs just fine also.  It seems to work fine under System 8 in SheepShaver, though the Control Strip leaves a white artifact across the display.  I also tested it to run fine on my SE/30 in black & white (but it's slow ... you can reduce the number of fireworks to speed it up) and in grayscale (Micron Xceed).
Unlike most screensavers I wrote this as an application -- just drop it in your Startup Items folder and it will automatically launch at startup and drop into the background.  The idea was to make it easy to quit in case of compatibility issues.  Also, perhaps I was slightly lazy
Let me know if you check it out and like it.  I have been thinking about rewriting it to run much faster on an SE/30 when I get around to it.  I don't think it will work under System 6 but I haven't tried yet.  Feedback definitely welcome but I sadly don't think I'll be able to update it anytime too soon.
Thanks to my old friend Mike for designing the nice icons.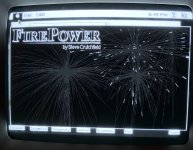 Last edited by a moderator: