Hi all,
For years I've had packed away a Sonnet Crescendo G4 1000Mhz to suit a PCI PowerMac - I recall it worked but now once installed, CUDA, PRAM etc there is no chime nor life when it is plugged in to my 9600.  Switching over to a Sonnet G4/450 Mhz makes it chime and boot and be happy.
Does anyone recall any quirks with these cards and if they remained reliable?  It's an 800Mhz overclocked to 1000Mhz which seems a decent stretch.
My troubleshooting so far:
- Visual inspection, cleaning of card (with electronic contact cleaner, and wiping down the CPU connector) - no visible faults
- Removed heatsink replaced old dry thermal paste, put the @#&* screws back in (I note the card had a slight horizontal flex to it before I removed the heatsink, as the screws were wound in too tight from factory
)
- Stripped 9600 down to known good RAM modules (matched), single PCI graphics card, nothing else
- No chime, no life - Sonnet G4/450 chimes and boots immediately when switched in.
- CPU heatsink gets warm around the CPU
I've not got much left ... apart from down clocking the CPU the 800Mhz - see pic which I can just make out the resistor pattern for 800Mhz vs 1000Mhz (not mine) - possibly the overclock might be stretching it.  Any other thoughts?
Thanks
JB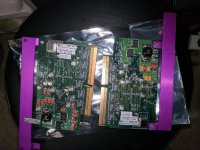 Last edited by a moderator: