As described in
this thread
, I seem to be coming across plenty SE/30's which the sellers all assume to be working, just because the CRT turns on...
I already got myself a battery bombed one, of which I make no illusions as to ever see it working. Did get get me a bunch of working spares though, for little money (analog board, PSU, HDD, CRT, ...)
Now I just found another one, boots to the neat horizontal lines zebra simasic screen. Bought it anyway (cheap, 40€), again, including keyboard, mouse, ....,
Mainly as it was definitely not battery bombed, came with no battery in de holder, which was pretty darn clean.
It's an early version board with the socketed CPU.
Standard problem are the caps which have leaked, and left the slightly green sticky and fuzzy mess. Even looks like it's got hair growing on it
(likely dust being blown in the sticky mess by the fan over long times of use).
Corrosion wise it looks rather OK I think.
Ordered a new supply of 99% IPA, will remove the caps shortly, do a good cleanup/wash, recap, and shoot a bunch of prayers (no idea to who though as I am an atheist
)....
I know that fuzzy cap mess is conductive and easily stops the board from working, so lets hope...
It als seem to have a reapired trace, although on close examination of the soldering, it almost looks like factory done?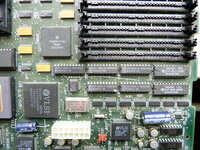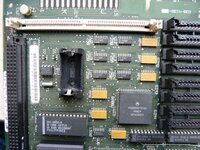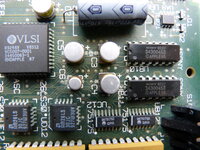 Last edited: