Hi all,
I am finally working to recap/restore my Classic II that has been out of commission for the last 8 years, using it as practice to refurbish the rest of my collection. The Classic II had weak sound and stopped booting a number of years ago but I have some newbie questions for the refurbishment process.
I purchased replacement capacitors as per uniserver's diagrams, got the case cracked open and proceeded with an initial wash as prep before surgery.
My steps were:
Wash with water
spray 91% isopropyl alcohol,
swirly motions in a tub of water
spray again with alcohol
delicately clean around capacitors with a q-tip
rinse with water
fan dry for about 6 hours
The good news, the computer booted right up when the mother board was dry (as best I could tell). I hope I did the wash correctly, but my questions are:
The water at my place is soft from what I can tell, I figured tap water would be fine given some motherboards go through the dishwasher. Am I correct to assume this? Should I have avoided the tap water or used distilled water instead?
Should I skip water altogether and stick with just the isopropyl alcohol?
The motherboard has gunk between the pins of the chips (See attachment), should I be worried about this?
I think I noticed some green corrosion on a copper lead (or two), should try to clean it with vinegar/salt (like a US penny) or get some copper cleaner?
Anything else I can do to protect the leads/pins on the motherboard?
Thanks in advance!
Edit: hopefully got the image attached this time
Attachment: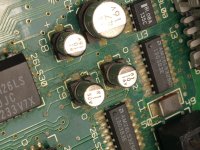 Last edited by a moderator: