I'm planning on recapping my Newtons and thought I'd start with my 2100.
Looking at the logic board, there are a good number of yellow tantalums.  There is only one can SMD.
What I'm not sure is if the black square caps are tantalums or electrolytics.  They kind of look like tantalums, but they also kind of look like the plastic encased electrolytics (and even have the same logo) as were in my Duo 230 LCD screen (see thread below).  There isn't much material on the net as far as I can see regarding recapping the 2000/2100 Newtons.  As an aside, I am planning on replacing the supercap on the board.  Any thoughts as to what these are?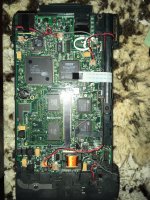 )
Last edited by a moderator: