I have a mac SE running system 6.0.8 that I've recently installed an Ethernet card in. Trying to get it connected to the internet and not having any luck at all. I've installed the Mac Con SE drivers and MacTCP. The troubleshooter that came on the Mac Con SE driver disk passes Memory Controller and Network Interface Controller tests. I'll attach an image of my MacTCP settings - maybe they are not correct. I also suspect maybe my router just doesn't want to play with MacTCP and am considering puting an old switch between the two. Any suggestions on hardware that may help?
I currently have it plugged into a Linksys wrt54g v8 set up as a wireless bridge using DDW-RT. It's got 4 ports and delivers internet to two of my other less-vintage-but-still-old machines without problems. My SE is the only one having problems regardless of what port/cable I use.
This is my first post but I've lurked and utilized this forum many times to solve problems and get suggestions on software. Any advise would be much appreciated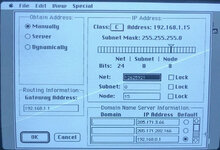 I also get this little question mark mac icon during boot ever since I installed the Mac Con drivers. I just assumed it means no network is seen. Is that what it means?