Well, I vowed never to buy another IIsi after I paid big bucks for one back in college and my parents bought an LC III, which was 5 MHz faster than my IIsi, for $1000 cheaper less than a year later. But, a very-clean non-working IIsi came up on here for $50 and I was looking for a project. I figured it would be an easy fix with such a pristine-looking logic board, but as they say, looks can be deceiving!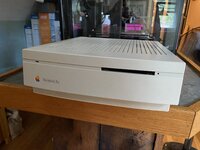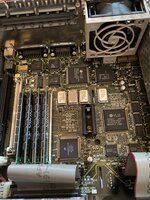 I started by recapping the power supply and logic board. After that, the fan and the disk drive would spin up but not the HD. In addition there was no video and only weak / garbled sound. Eventually I figured out that the 12V rail was bad between the external speaker amplification circuit and the internal HD power supply. It looks like a cap must've leaked on the 12V trace and messed it up. A bodge wire fixed that and then the stock 80MB hard drive spun right up!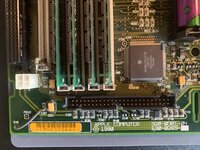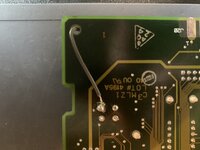 It turns out I was wrong about the video not working - I was testing it with a VGA LCD monitor and a Mac to VGA converter. I assumed it would work with my IIsi since it worked fine with my LC III. Boy was I wrong on that one after trying just about every DIP switch settings possible... Luckily Eric from BlueSCSI donated an Apple Color Plus 14" Display that works great, so a big thanks to Eric!
Next task was getting the sound to work. It had very weak / garbled sound coming from the speaker but normal sound through the headphone jack. After looking over the
schematics
and testing continuity between components, I found a broken trace in the sound circuit. After bodge wire #2, the sound was a little louder but still garbled.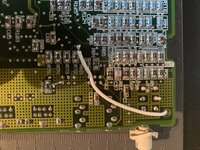 I had another IIsi logic board with working sound but other issues, so I just started swapping out components in the speaker amplification circuit figuring the issue was there. I swapped out an IC (TL0718) and a couple of transistors (Q10 and Q11) and the sound through the speaker now works! Here's the strange thing - I put the "bad" components back in the spare logic board and the sound still worked fine in that board too. So maybe I just had a bad connection there or something...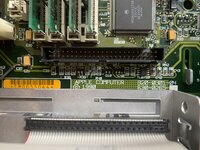 I replaced the stock HD with a speedy ZuluSCSI and 3D printed a little tray for it. Note that the ZuluSCSI and SCSI2SD require HD power to work unlike with the LC III.
I also added a
blinky HD activity light
for the IIsi just by adding another wire between the LED and unused lead of the speaker / LED power leads.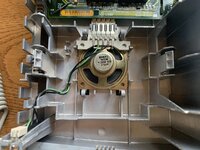 With everything now working properly, I thought I'd try to speed up the purposely-slowed-down IIsi (so as to not compete with the IIci), so I upgraded the oscillator to 50 Mhz and added a TechWorks PDS FPU/Ethernet card (from Herb's Stuff). After some tinkering around with the disk cache and
IIsi-RAM-Muncher
, I was able to get a Speedometer 3.06 score of 6.55 compared to 2.83 for the stock IIsi. Even with that impressive score increase, the IIsi is still very SLOW doing anything having to do with the internet. I guess that shouldn't be surprising given that it came out before the internet really took off...

Part of the challenge of working on the IIsi is that because of the soft power circuit, it's difficult to test the power supply without actually having it plugged into the logic board. Overall, I'm pleased with the way it turned out and I'm not nearly as bitter about the price difference with the LC III any more. It kinda looks like the next generation of the IIgs, which is my favorite computer. And I really like that you can power up the computer and monitor from the keyboard - I've missed that feature with my old Macs. Now off to do some BBS'ing!