I need some help regarding my Quadra 840AV. I have got this Macintosh stock. The behavior was at power on: Very dim Power LED, black screen and only FANs were spinning. 2 days later I have powered it on again and the power LED wasn't powering on any more but FANs were spinning. After longer power on time and some powering on and off I have heard the startup chime but still no video signal.
Then I have removed all the old electrolytic capacitors, cleaned off the legs and the capacitor leakage with vinegar and isopropal 99%, scratched off trace covers where a corrosion was visible. I had Wurth radial caps on hand and used these: 2x 10µF 35V and 13x 47µF 16V. There is no cmos battery leakage. The behavior was still the same after replacing the caps and I couldn't also get the chime any more. 
Then I have tested the power supply input according to this pinout: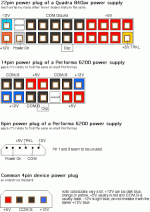 According to my multi meter -12V seems to be shorted to ground. I wanted to connect my power supply to it, but I don't know how. I have this one:
RND320-KD3005D:
https://cdn-reichelt.de/documents/datenblatt/D400/RND320-KD3005D.pdf
Is it possible to just connect the black wire of my PSU to the -12V pin and the red positive wire to any GND pin of my logic board to get -12V? And what are your suggestions to the problem?
Last edited by a moderator: