Hello everybody,
I hope I am not the only one tinkering with old printers. I got an ImageWriter II to match my Mac Plus, SE or SE/30 and while the printer cleaned up quite nicely there is one problem that I was unable to fix so far and that is annoying me very much.
The middle pin does not work, see this picture from the self test: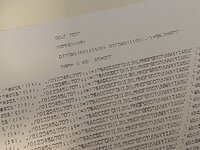 What I've done so far without any change in behavior:
- replace the ribbon
- check and clean the connector to the print head PCB
- replace the flexible cable with with a tested good one (I checked every trace with a multimeter)
- replace the print head with a used one. I measured all nine coils with a multimeter and verified that none are open. I then took apart the original print head and all pins look fine. I switched them around, reassembled the print head and the missing dot remained at the same place.
I would appreciate any ideas. Thank you.
/edit: I forgot to mention that all capacitors look fine. No leakage or corrosion whatsoever.