So I have two color classics. One I recapped both the logic board and analog board a couple years back and it works fine. The other is a machine I have been getting piece by piece. A friend gave me a color classic chassis with a broken LC550 board and no rear cover and I very recently got a color classic board. The board had very minimal leakage from caps. No leakage from battery. The board would power on as is when I got it but no sound.
for testing purposes I used my known good recapped board in the uncapped color classic case and it boots up and has sound via the internal speaker (also used the non sound board in the recapped Chassis,, still no sound). I figure its just a cap issue so I recap the board. Still no sound. No sound via headphone out which is puzzling.
I did some tracing on the goog and bad board to look for possible breaks but found nothing. Both connect to the IC in the same way. See attached photo: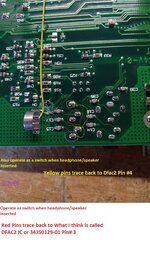 Using the block diagram on this document:
https://powercc.org/downloads/files/Mac Color Classic.pdf
I am assuming the 343S0129-01 IC is what is called DFAC2. Is this the culprit? Is the IC dead?
Last edited: