Back in 2004 or so there was a short lived alpha quality port of the Mac-On-Linux virtual machine to Darwin platforms. I took a keen interest in it as my Aluminum Powerbook G4 could not natively run MacOS 9 and I had a program (Bernie ][ The Rescue, an Apple IIgs emulator) that wouldn't run properly in Classic. I managed to get it working and much to my surprise Bernie ran much better. Sound and graphics worked great unlike under Classic where the sound output frequently broke up. The sound output did require some work on my part. I hastily hacked in a CoreAudio HAL output driver (complete with multithreading!) into Mac-On-Linux that somehow managed to work (I had zero OS X programming experience at the time). Sadly this experiment was short lived. Tiger (10.4) broke the kext Mac-On-Linux required and the port was never updated.
There was a short lived attempt to add a GUI VM manager and native Cocoa video output (the port required X11 for video display), but it too didn't go anywhere.
http://en.wikipedia.org/wiki/Mac-on-Mac
Here it is in action on my Powerbook back in the Panther days: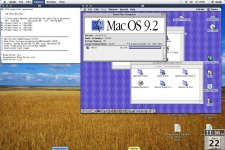 One nice thing about this project is that it could run MacOS 9.2.2 without a problem, something Sheepshaver simply can't do. The alpha builds never ran OS X or MKLinux like the original Mac-On-Linux if anyone was wondering. Its too bad the project didn't continue, it would be a nice alternative for PowerPC users running Classic-less Leopard to run all their pre-OS X applications.