Like many of us I have been following Kai and Bolle's Progress in reproducing various Macintosh PCB's I thought it might be fun to have a go myself!
I ended up settling on the Macintosh Plus (Even though there is no real need for Plus reproductions) since it is a fairly simple PCB (2 signal layers on the outside, power and ground on the inner layers and all through hole components) and was easy to get hold of. I figured if it went well I might move on to something more in need of reproducing
I'm sure we are all pretty familiar with now, The board gets stripped and scanned:
Rather annoyingly the was just a few mm bigger than the bed of my scanner which would result a small amount of one side of the board being cut off from the scan this would have been OK except it also resulted in the board not sitting flat so half the board was out of focus so I ended up having to do two scans of each side and merge them approximately in the middle
The scans are then loaded into Sprint Layout and traced: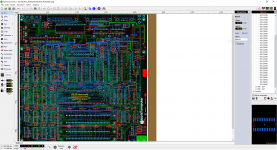 It took about a week of drawing traces for about 2 - 3 hours each evening to get to here. I'm pretty happy with the way it is looking, it's not exactly a 1:1 repo but it is fairly close (Some traces take slightly differen't routes and the silkscreen has been altered to have component values. It is however close enough if you where working on a original board you could use the layout to work out where things go)
And that's pretty much it for now, The next step will be sending the boards off to JLCPCB for manufacture!