My OrangePC card arrived today in the mail. The card itself is in perfect working order (pics to come soon). The only significant problem I'm having at the moment is getting the OrangePC mouse driver to work in Windows 3.1 (the driver is fine in DOS 6.1 and I can toggle between Mac or PC mouse using Command-M). I was reading through the Orange386 instruction manual on how to tell Windows to access and accept the OrangePC mouse driver on Page 90, however I keep getting the following error: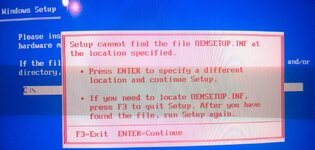 Not sure why Windows is asking for OEMSETUP.INF when the Orange386 manual states that the mouse driver is located in C: drive. Unless something changed when the Orange386 manual was written.
There's some other minor things as well. I can't access the BIOS now that DOS 6.1 is installed for some reason (I still get a keyboard error even though my Mac keyboard works perfectly in both DOS and Windows). Sound doesn't seem to be working in Windows. Also the Apple PC 5.25" drive doesn't communicate with the OrangePC card - I guess I need the breakout cable/peripheral kit for that to work with the card.