Greetings 68kMLA!
I wanted to share the RaSCSI case I modeled.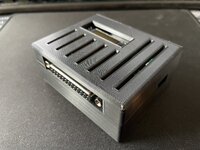 I had been looking for a case for the RaSCSI I've been using with my Mac IIsi. The case by
@PotatoFi
is awesome, but wouldn't work for me since I had mounted the Pi on the bottom to allow for the use of the optional OLED screen. So, this is what I came up with. I am a novice 3D modeler, so it's not quite as elegant, but it gets the job done. It doesn't have an access slot for the microSD, but in my experience with the RaSCSI, after the initial build, all of my interaction with it was via web and SSH, so I didn't need ready access to the card. Right now it only accommodates a 128x32 OLED display, but I have a 128x64 display on order, so a model for that will be coming. I have a little more elegant design planned for that.
You can get the models at
Prusa Printers
. I am also still a novice 3D printer, so I don't have an Etsy store selling printed cases. If you print it, let me know how it works out for you.